Florida Fishing
Florida is home to the world's best fishing. From deep-sea fishing from the Florida Keys to the Gulf Coast to largemouth bass in the north-flowing St. Johns River, the Sunshine State is the place to set the hook on a fish of a lifetime.
If the world has a favorite fishing spot, it's Florida. We are the Fishing Capital of the World. 
Florida's 1,350 miles of saltwater coastline sports diverse fish habitats that support more well-managed fish species than you could probably catch in a lifetime. Anglers catch hundreds of brawny, beautiful and delicious species in teeming estuaries, off gorgeous beaches and in the deep blue oceans surrounding the Florida peninsula. At least 7,700 freshwater lakes and 10,550 miles of rivers also serve up world-class freshwater fishing. It's no wonder that more world-record fish are caught in Florida waters than anywhere else in the world.
The reasons for fishing are as varied as the species and the methods of catching them. But to name a few . . .
Action
In no time, you may find yourself offshore bailing in mahi after acrobatic mahi off Islamorada, or casting a fly to a tarpon bigger than you are – in a foot of water minutes from Miami.
Relaxation
Cast a line off a dock or pier and take a seat. Many cities maintain beautiful pier-fishing facilities, including Lake Worth, Pensacola Beach, Destin, Panama City Beach, Cocoa Beach and Flagler Beach.
Wildlife 
Florida fishing brings you close to nature, so close you shake off a primordial shiver as an alligator bellows on a sunny bank near Kissimmee or Gainesville. So close that you giggle as a pod of dolphins plays in your bow wave in the Indian River Lagoon, near Stuart, Sebastian or Titusville. Their sense of fun is contagious.
Wilderness
Our Florida fishing ecosystems are unique and magnificent. Paddle under a canopy of cypress and oaks in backwater creeks such Fisheating Creek near Labelle, Moore Haven and Lake Wales. There's a bass or bream around just about every mysterious cypress knee. Or, catch bass species that thrive only in North Florida rivers such as the magnificent Suwannee, where class III rapids add serious excitement to a fishing trip on the river between White Springs and the Town of Suwannee, where the river passes through the Lower Suwannee National Wildlife Refuge, pouring out into the Gulf of Mexico.
Fresh Fish 
Whether it's a red snapper caught off Destin, speckled trout from Tampa Bay, or a mess of crappie from Tallahassee's Lake Talquin, there's not much more satisfying or delicious than eating fish you caught yourself. Most places you can find a restaurant that will cook your catch to order. Or, gather your crew around the grill or deep fryer.
Family Fun 
Florida's the place to fire up a young angler's inner fishing fanatic. Spring break or summer vacation are both great times for feisty, delicious easy-to-catch fish. Go for grunts and yellowtails caught off Marathon. Or, pan out on pan fish in ponds, lakes and rivers near Okeechobee, Ocala and Fellsmere.
Trophies 
More world records have come from Florida fishing than any other place in the world. The biggest sea trout on record came from Fort Pierce. A lady angler landed a 112-pound amberjack off Islamorada. And the Gulf of Mexico produced a 126-pound cobia, off Destin, aka the cobia capital of the world.
Naturally, it's time for you to come wet a line in Florida. Florida fishing has it all.
Florida is recognized as the "Fishing Capital of the World" based on the number of freshwater and saltwater anglers, amount of time spent fishing, economic impact, diversity of recreational species, international fishing records set here and tourists who use our resources. The most recent National Survey of Fishing, Hunting and Wildlife-Related Recreation (U.S. Department of Interior, 2006) again ranked Florida No. 1 in in-state anglers (2.8 million vs. No. 2 California with 2.5 million), angler expenditures in state ($4.4 billion vs. No. 2 Texas with $3.4 billion), economic impact ($7.5 billion vs. No. 2 Texas with $6.1 billion), angler-supported jobs (75,068 vs. No. 2 Texas with 59,938), and state and local taxes generated by sport fishing ($440 million vs. No. 2 Texas with $392 million).
In addition, approximately 35 percent of all International Game Fish Association records in the U.S. come from Florida (Florida has 4,755 vs. No. 2 Alaska with 1,354, of 13,534 U.S. records, including line-classes). Florida even has more record catches than the next highest country, with 18.5 percent of all IGFA records worldwide. (Australia has 1,530 records, of 25,652 worldwide; Pers. Comm., Jack Vitek, IGFA World Records Department.)
Florida has more world record fish catches than any other state or country. From an economic perspective, Florida also leads all states in economic impacts for its marine recreational fisheries and has one of the top producing commercial fisheries in the country.
Whether you are bridge fishing, flats fishing, kayak fishing, offshore fishing, or spearfishing, there are ways that you can balance fun, safety, and a conservation ethic. Below are some quick tips.
Florida's Underwater Ecosystem
Florida Turtle Grass
It's not just Florida's numerous fishing opportunities that make the State number one.  It's the quality of the various fisheries themselves.  All the coastline and lakes in the world wouldn't make any difference if Florida's fisheries weren't inhabited by beautiful, healthy, and plentiful fish.  Personally, I'm grateful every time I leave land for the water.  Whether I'm drifting or motoring over a flat, paddling through a narrow mangrove lined creek, or walking along one of Florida's uninhabited white sand beaches, I can't help but to be in awe of the beauty before me.  Florida's healthy turtle sea grass is most abundant from Tarpon Springs northward to Apalachee Bay in the Gulf of Mexico.  Turtle Grass (Thalassia testudinum) is the largest in Florida.  The approximate 2.2 million of acres of seagrass provides benefits to our marine habitat in that it helps to improve water clarity by collecting sediment, provides a refuge for fish, shrimp, and other shellfish, and helps to solidify the bottom with its root structure.
---
Prefishing Tactics
When fishing the flats, look for seagrass; especially turtle grass.  The better you know the area where you're planning to fish, the more likely you are to be successful.  Fisherman that participate in saltwater fishing tournaments, particularly the IFA Redfish Tour, engage in all manner of tactics in order to win significant amounts of money.  One of the tactics used by both saltwater and freshwater fisherman alike is to "prefish," an area.  Prefishing is the process of going out and fishing the area in which the tournament will take place, as many times as possible, under the same tidal conditions that will exist on the day of the tournament, before the actual competition.  For your average fisherman with an actual job, prefishing is simply not realistic.  Most of us can't just say to ourselves, "well, it's Tuesday… and the tide is going to be high at 10:00 AM… the tournament I'm fishing in a few months from now will also have a high tide that day at 10:00 AM… so, I'd better just not do anything other than get out on the water, see what's biting, where, and on what kind of lure."  Though that would indeed be an enviable schedule to have, it's not going to play out for the majority of fisherman.  Nevertheless, if you're going to tournament fish, prefishing pays off.  On March 4, 2017, in Punta Gorda, Captain Brandon Buckner and partner Mark Sepe won $29,530.00.
---
Plan Ahead for Success
Use Florida's healthy fisheries and the advantages provided by all the money Google spent to develop Google Earth, to your benefit.  Use Google Earth to scout out potential spots by looking for areas where there might be a deep hole, a sandy area surrounded by seagrass, rocks, oyster bars, and other fish holding structures.  The more time you can devote to learning about where you plan to fish, BEFORE you get on the water, the less time you'll spend determining whether you're in a spot likely to hold fish.  Less time spent scouting for spots means more time with your rods in the water and hopefully with fish on the end of your hook.  You'll also save fuel.  If you have the financial resources, you may want to consider hiring a fishing guide for a half day, and preferably, a full day of fishing.  The cost varies per guide, area, and season.  It's worth your while to find the best guide you can for the area you plan to fish the most.  You can ask for recommendations at tackle shops.  You're welcome to contact us for any references on fishing guides.  You will learn more in that one day from a guide than you're likely to learn in months on your own.
---
Live In The Present
As a closing piece of advice, work to ensure you never take the beauty Florida has for granted.  When you're fishing, think about how many people in the world would love to trade places with you.  Think about how many people pay thousands of dollars for a Florida vacation.  Whether you live here or you're just visiting, you're in a unique and amazing state; that just happens to be the fishing capital of the world.
In 2008, National Geographic placed Islamorada on their list of top 12 cities in which to live and play.
That's quite an accolade, and especially when not one other city in Florida got into the top 50!
So what is it about this area of the Florida Keys that makes it so sought after and prize winning?
Well I could say that if I have to tell you the answer to that question, then what have you been doing with your life?
So I will begin with some facts about where it is, and then we will tell you what occurs there, what interests people living in the area have, and then finish with tourist information, such as hotels, restaurants and things to do.
So if you are sitting comfortably let's begin.
---
Where Is Islamorada?
It is about a third of the way down the string of islands known as the Florida Keys.
If you consider that down is towards Key West, and up is towards the mainland of America, you will get an idea of where it is.
It is actually part of what the area call the Upper Keys, consisting of Key Largo and Tavernier (which is the largest island around these parts)
If you are planning on travelling to the place then just to give you an idea of how long it is going to take you, Islamorada is 1 1/2 hours from Miami international airport and 2 hours from Ft Lauderdale airport.
So lets try to give you a few of the major destinations around the Florida area, so you can get a greater understanding of your journey time.
One warning if you are planning on driving to Islamorada, then you will often be caught up in slow moving traffic on US1 aka the Overseas Highway.
When you are surrounded by water on both sides then there isn't much that you can do about it I'm afraid.
From Key West = 80.9 miles (1 hour 45 mins)
From Key Largo =  16.6 miles (16 mins)
From Orlando = 313 miles (4 hours 49 mins)
Jacksonville = 423 miles (6 hours 28 mins)
---
How Big Is Islamorada Actually?
It totals a land area of about 7.1 miles and is presently sitting 5 feet above sea level.
For more detailed facts ranging from what percentage of the population are white, how much the average person earns, and how much an average house goes for then click here, and all your Islamorada facts and figures will be answered.
If you want however to get a good understanding of the history of the area you cant do any better than spending sometime looking at the following pages that all review the founders, the creators, the tragedies and the visionaries that made it what it is today.
More Great Stuff On The History Of Islamorada
---
What Does Islamorada Have Going For It Then?
Well for a start this is known as the "Sportfishing Capital of the World" so if you are looking for the most excitement you can have with a fishing rod, then you are in for the treat of a lifetime.
Bud N Mary's Marina on Oceanside has over 40 experienced charters and guides, who can make your fishy dreams come too and will be more than happy to take you out onto the waters.
Which actually leads me onto an interesting "Watery fact"
It's name is frequently translated from Spanish as "purple isles.", but really a better name would have been "Island surrounded by crystal blue water…..with lots of great views thrown in too!"
Well, I think we should name it as it really is, because this is THE place for water fun.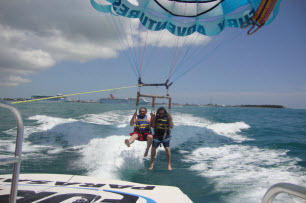 Whether you are a diver, a fisherman or just fancy dipping your toes into the water then there can be no better place for you to visit and experience just what the great outdoors has to offer.
In addition to fishing, the Atlantic Ocean and Florida Bay provide adventure such as parasailing, wind-surfing and kayaking too.
Which was what the famous sportsmen and authors like Ernest Hemmingway and Zane Grey, were attracted to.
And who could blame them, as when you walk happily around the area, you will see exactly the attraction for outdoor competition, and this is why every month the keys offer a huge selection of Fishing Tournaments races and other sporting challenges.
The four islands that form Islamorada, give you every opportunity to find your own secluded spot to grab as much of the Florida Keys sunshine as you can……..without anyone else interrupting the peace and tranquility.
So whether its enjoying what is going on under the water, on the water, or above the water, you certainly will find enough to entertain you whilst you vacation your stresses away.
---
Where Can We Find The Best Hotels, Motels And Resorts To Stay In?
Dont worry about finding a great place to stay as a wide range of Accomodation and hotels are just a  click away.
You can choose from romantic, to dramatic.
Exciting to relaxed and chilled
They really cater for every requirement and taste.
So take a look at our guide to best the hotels not just in Islamorada, but also the whole of the Florida Keys as then you can really start planning your Florida Keys adventure

Guide To Hotels In Islamorada & The Florida Keys
---
Buying A Home On Islamorada
But maybe you love the area so much you fancy buying a place and moving in?
Whether it is from one end at Plantation Key to the other at Lower Matecumbe, the size of lots are considerably larger than most other areas of the Florida Keys, which of course means "Very Lovely and Impressive Homes."
However, to live here does not come cheap.
In fact the cost of living is high.
To buy a property here, will cost you somewhere in the region of $1,000,000 and of course as most people love the water in Islamorada properties near the waterfront can be much higher still.
Upper Matecumbe Key is the heart of Islamorada, commercially developed but with many quiet residential areas tucked along the waterfront.
Lower Matecumbe is the areas residential island, with a bike path, tennis club, and private beach.
All in all it's certainly worth a visit.
---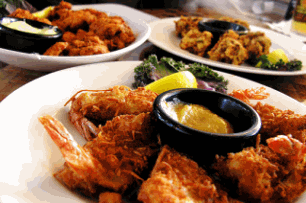 Islamorada Restaurants
One thing you can be sure of when visiting Islamorada is due to the focus on fishing and everything sea based, the restaurants are top notch.
Well that is if you love a bit of seafood, as the fish is literally still swimming when its prepared for the dish.
You will not taste fresher anywhere I can sure you.
But perhaps you don't like fish, and the thought of nice piece of snapper leaves you cold, well don't worry, all the restaurants cater for steak lovers, salad munchers, vegan, kids, the list goes on and on.
So take a look at our guide to the best restaurants in Islamorada, and then as you continue down the US1 or Overseas Highway as its also known, you will have all the information to turn off and have the greatest meal of you life.
The Best Guide To Restaurants Or Diners
---


Windley Key Fossil Reef Geological State Park
This is worth mentioning due to its historical importance, but not much more than that.
If you believe that the Florida Keys starts and finishes at the bottom of an empty Rum Runner Cocktail glass then this wouldn't be the place for you.
If you are interested in geology and the formation of rocks however then that is a totally different matter and feel free to visit.
I'll meet you in the Green Parrot in Duval Street! Read More…..

History of Diving Museum
The Florida Keys History of Diving Museum in Islamorada was not a place that I though "Yeah, before I do anything I want to go to this place."
But I was surprised, after visiting, just what lies the other side of its doors.
The place covers something like 3,000 feet of diving equipment through the ages Read More….. 
Theatre Of The Sea
This attraction is not just famous on Islamorada, but is one of the premier Dolphin swimming days in the world.
You will be able to get into the water and swim around with Flipper and his mates, and even get in with stingrays if you would prefer.
This is not a cheap day out but definitely is one that you should hold back a little cash for if you can. Read More…..

Pioneer cemetery
I like the Pioneer Cemetery for no other reason than I am extremely interested in the history of the Florida Keys.
You see once you step through the gate and into the cemetery you will find the resting places of the founding fathers (and mothers) of Islamorada. Read More…..

Hurricane Monument
The hurricane monument signifies the enormous waste of human life that nature can befall us when it gets a bit stroppy.
And this is certainly the case in regards to this monument remembering all those that died in the big blow of 1935.
Not only will you get a moment to reflect on such tragedy, but also you will get fantastic views across the water. Read More…..

Holiday Isle Dive Shop
Is the number one diving shop on the island, and on Trip Advisor is normally sitting within the Top Ten of places to visit whilst you are here
And hey, who are we to go against the mighty "Trip Advisor"
But in all honesty it's not hard to see why it ranks so highly. Read More 
Islamorada Beaches
As with most of the beaches in the Florida Keys the ones found here  aren't always what you would look at and go "Yeah…that's what I call a beach!"
Most of the time they are small bits of sand surrounded by either Sea Oats or mangrove, but in their own way this just adds to their charm.
Article Info
Article Name
Florida is the Fishing Capital of the World!
Description
Florida is home to the world's best fishing. From deep-sea fishing from the Florida Keys to the Gulf Coast to largemouth bass in the north-flowing St. Johns River, the Sunshine State is the place to set the hook on a fish of a lifetime.
Author
Publisher Name
Publisher Logo