How Trees Can Increase Your Property Value.
Brought to you by; Tree Care By Robert Miller, INC.
 Address: 9281 Cobb Road, Brooksville FL 34601
 Phone: (352) 592-1203  Fax: (352) 799-1845
 Email: info@millerstreecare.com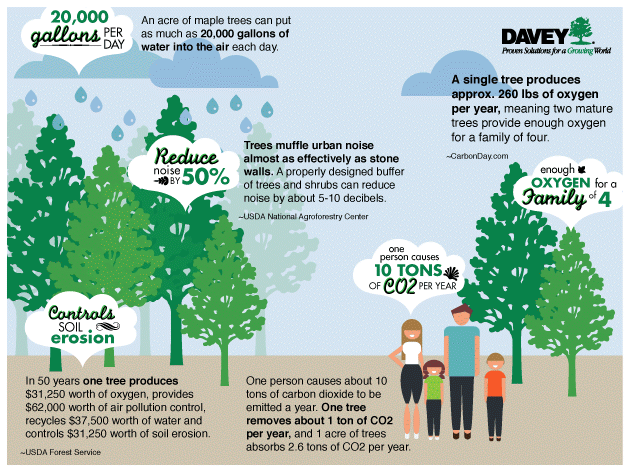 Effect of Trees on Property Value
The value of a tree in your yard can improve your property value more than you may think. The Arbor Day Foundation cites some of the following effects of trees on property values:
The effect of trees on property value. Landscaping can add approximately 10 to 20 percent more value to a property – especially landscaping that incorporates mature trees. Commercial areas with trees also attract more customers (and they stay longer and spend more money), and apartments with trees have reduced tenant turnover.
The effect of trees on resale value. A well-chosen tree adds curb appeal and makes the home appear established within its environment. According to the Arbor Day Foundation's research, "83 percent of realtors® believe that mature trees have a 'strong or moderate impact' on the salability of homes listed for under $150,000; on homes over $250,000, this perception increases to 98 percent."
The effect of trees on energy efficiency. Depending on how your home is sited on your property, trees can provide shade during the heat of summer or protect your home from the winds in winter. This effect of trees can cut cooling and heating costs. According to the U.S. Forest Service, "trees properly placed around buildings can reduce air conditioning needs by 30 percent and can save 20 to 50 percent in energy used for heating."  If you're selling your home, this effect of trees on your home could be a real selling point when talking to potential homebuyers.
The effect of trees on the senses. Whether it's a tree's first blossoms of spring or the vibrant reds, oranges, and golds of fall, trees usher in the seasons and announce their passing. Even the bare branches and bark of deciduous trees can be stunning against a stark winter landscape or dusted with snow. Don't discount the effect a beautiful tree could have in winning over the heart of a potential homebuyer.
The value of trees for the good of the planet. If you're not convinced yet of the value of trees in your yard, consider this. Trees do more than provide decoration. As we learned in elementary school, trees absorb carbon dioxide and release oxygen, which helps reduce the impacts of fossil fuel use and keep the planet in balance. The U.S. Department of Agriculture estimates that "the net cooling effect of a young, healthy tree is equivalent to ten room-size air conditioners operating 20 hours a day." In addition to this effect, tree roots also reduce soil erosion and storm runoff.  These days, educated homebuyers and gardeners are interested in simple strategies to save energy and improve water quality. If you've invested time and energy to plant some trees and improve your landscape, the value of a tree in your yard will earn its weight when it comes to winning over potential homebuyers who care about sustainability.
The effect of trees on your mood. Communities with more trees report lower crime rates and lower levels of anxiety.  In one study from Texas A&M University, looking at trees reduced stress within five minutes, as indicated by changes in blood pressure and muscle tension. Communities with lower levels of anxiety and lower crime rates also tend to have higher property values.
The effect of trees on privacy. A well-sited tree can screen a house from a busy road or a noisy neighbor. The effect of mature trees can create an extension of your home and provide an additional, outdoor room where street noise and the visual impacts of other houses are minimized.
In combination, the effects of trees on property value listed above can provide a substantial return on investment for a relatively low-cost home improvement project. Never underestimate the value of a tree in your yard.Towering trees on your property provide more than beauty — they increase the value of your home.
Several recent nationwide surveys show that mature trees in a well-landscaped yard can increase the value of a house by 7 percent to 19 percent.
A lush lawn with flower gardens is pretty but didn't add to the value of a house, the surveys showed.
The numbers don't surprise Pat Vredevoogd Combs, immediate past president of the National Association of Realtors. "People tell us they want trees and privacy behind," she said.
Well-landscaped yards with mature trees and bushes that provide privacy not only fetch higher prices — they sell more quickly than houses with little or no landscaping, she said, noting that they provide the ultimate "curb appeal" by impressing buyers before they even walk into a house.
The surveys were done in 2007 by the University of Washington and the National Gardening Association. "It's a significant increase," said Charlie Nardozzi, senior horticulturist with the National Gardening Association, about the effect trees have on the value of a house. But buyers don't stop there. "People are looking at big trees, rock walls, patios — the whole feeling," he said.
Nardozzi suggests that people reconsider when they neglect their yards to focus on renovating kitchens and bathrooms. "With housing values dropping in many areas of the country, having a beautiful landscape could make the difference between breaking even on your home and making some money on the sale of your home," he said.
A Clemson University study found that homeowners get a 100 percent or more return on the money they put into landscaping. Nardozzi advises homeowners with bare lots to start landscaping immediately because it takes 5 to 7 years for plants to mature. A good professional landscaper will look comprehensively at the site before planting.
Homeowners who decide to go it alone should get advice from a local gardening shop before planting "willy-nilly," Nardozzi says because this often results in planting the wrong plant in the wrong location. The result can be overgrown plants that cover the windows of a house or trees with roots that buckle a driveway.
"Do your homework," Nardozzi says because a poorly landscaped yard negates your efforts to add value to the home.

The U.S. Forest Service Pacific Northwest Research Station says that planting a tree in front of a house increases the home's sale price by an average of $7,130. So, in essence, money can grow on trees.

Planting a tree on the west side of a home can reduce a home's energy bills 3 percent within five years and 12 percent within 15 years. Specifically, west-side trees can bring summertime electric bills down by an average of $25 a year and reduce air conditioning use by 30 percent, according to the Forest Service.

Trees and other landscaping can also lower the impact of damaging winds on a home, potentially reducing 35 mph winds to 10 mph, according to the Arbor Day Foundation. This also lessens the load on the furnace working to heat the home on those cold, windy days, which can bring energy bills down by 30 percent.

Additionally, a Clemson University study found that landscaping has the potential to increase the value of homes by about 6 percent. Some of the most desired landscape trends among consumers include rainwater harvesting, native plants and drought-resistant plants, permeable paving, and fire pits, according to the 2016 Residential Landscape Architecture Trends Survey conducted by the American Society of Landscape Architects.
Article Info
Article Name
How Trees Can Increase Your Property Value
Description
Several recent nationwide surveys show that mature trees in a well-landscaped yard can increase the value of a house by 7 percent to 19 percent.
Author
Publisher Name
Publisher Logo